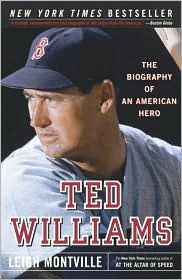 Image via
BARNES & NOBLE
My main complaint about the last biography I read, Jonathan Eig's
The Luckiest Man
, was the idealization of its subject, Lou Gehrig. Leigh Montville's
Ted Williams: The Biography of an American Hero
does not suffer from such problems. While Montville confesses in his author's addendum to idolizing Williams as a child, he offers a remarkably balanced portrait of an extraordinary man. When Williams was good, he was miraculously good - as a hitter, a fisherman, a philanthropist. When he was bad, he was catastrophically bad - as a husband, a father, a polite conversationalist. It's all in the book. No punches are pulled. Montville did a very nice job of presenting a complete human being.
Montville's research was based largely on interviews of those who knew Williams personally at various stages and in varying aspects of his life: former teammates, fishing buddies, live-in nurses, etc. As such, the writing frequently takes the tone of friends sitting around after a funeral, spinning yarns about their old pal. Different sides of the same story emerge, revealing different sides of the same man. As readers, we are the privileged flies on the wall.
Quite a lot of celebrities big and small make cameos. Joe DiMaggio, somehow predictably, doesn't come off very well. The greatest scorn, however, is directed at the subject's own son, John-Henry. On the other hand, I now feel quite warmly towards Dom DiMaggio, Joe's brother and Ted's longtime teammate.
It's not all baseball. I was a little worried when Williams retired on page 235 that the material would dry up a bit and the second half of the book would be a tough slog. Not so. The Splendid Splinter's "larger than larger than life" existence, as Montville put it, didn't slow down much over the following four decades. Two entire chapters are devoted to fishing - one to saltwater, one to freshwater - and they're both pretty interesting. The brief managing stint, the familial soap opera, the end-of-life cryogenics circus - it's all here.
Ted Williams: The Biography of an American Hero
is a fun read for a baseball fan but don't expect a paragon of virtue and be ready for a lot of F-bombs. One does get the sense Ted could make a longshoreman blush.