Title:
Double Barrel
Issue: #1
Release: June 2012
Writers: Kevin Cannon and Zander Cannon
Artists: Kevin Cannon and Zander Cannon
Image via ComicsAlliance
Full disclosure: as some of you already know, I went to college with the Cannons. I first introduced Zander and his work in
this post
. I don't know Kevin so well but we'll get to that in a bit. Wednesday was a very big day for these long-time collaborators. Their web comic
Double Barrel
was launched, a jam-packed 122-page bonanza which can be yours, too, for a mere $1.99. I got mine through
comiXology
but it can basically be purchased anywhere web comics or e-books are sold. If you'd care to learn more before taking the low-risk plunge, check out
their blog
.
The main attractions in
Double Barrel
are two serialized stories.
Heck
is a new story written and drawn by Zander.
Crater XV
is written and drawn by Kevin. It is the sequel to his Eisner-nominated graphic novel
Far Arden
. Other treats are also included in this issue and more are promised for future installments.
Now, can I trust that you've done your part to support the cause and proceed with the assumption that you've already read the first issue? Excellent...
Heck
Image via ComicsAlliance
Dante's
Inferno
has been on my to-read list for a long time and it has just moved up in the queue. Zander piggy-backs on the Italian master's concept of the Underworld for his narrative. Heck (short for Hector) has a gate to Hell in his basement and hires himself out for missions on behalf of those in need of tying up loose ends with the damned.
Double Barrel #1
includes the prologue and first three chapters of the saga.
Zander has a gift for creating likeable protagonists. Heck is not a larger than life figure. He's an ordinary guy in extraordinary circumstances. In my experience, all great stories begin with that very simple premise. The language the characters speak is real, all insecurities reflected in natural stutters and stammers. Zander doesn't let the reader get too comfortable, though. He trots Elliott out from time to time, seemingly to keep us all rooted in the creepy.
So, I'm assuming you've read the book by now and don't require a spoiler alert. Right? Right?!!!
I love the last line of chapter three, as delivered by Amy: "Well, I'll be damned." The line is layered with meaning and beautifully set up.
This story's a keeper. I'm hooked. Knowing of my own bias, I asked My Wife to read it, too. She doesn't know Zander at all so she could be objective. She was impressed.
"Are you curious to read more?" I asked.
"Yes," she responded.
"Even if you didn't know me?"
"Even if I didn't know you."
Well, there you have it.
Crater XV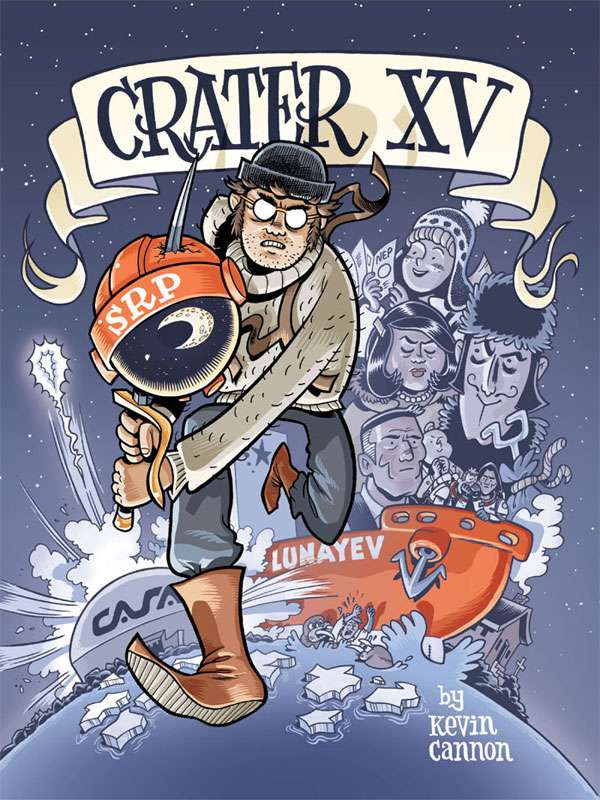 Image via Top Shelf Productions
To be honest, I only know Kevin Cannon by name. I'll admit to being one of those who initially assumed that he was Zander's brother. They were both named Cannon and were both talented cartoonists. Coincidence? Apparently.
Apart from those cartoons in the student newspaper,
Crater XV
is my own introduction to Kevin's professional work. Having met his protagonist, Army Shanks, I now feel I should go back and read
Far Arden
for the back story. Kevin's artistic style reminds me of the old
Mad Magazine
cartoons, particularly the work of Don Martin - not so much for the faces but for the limbs and the sense of movement.
Crater XV
is certainly an engaging and well-researched tale.
Both Cannons are quite adept in their chosen black-and-white medium. Kevin presents boldly defined lines with strong contrasts in shading, creating a clear sense of light. Zander's is a lighter touch and he uses fewer dark backgrounds - at least to this point. Both styles are effective in conveying the story and offer the reader an interesting comparison.
Bonus Materials and Other Thoughts
Included with this first issue is a cute comic which Zander has created about his son, Jin. It's very endearing and certainly rings true for anyone who knows and loves a precocious child. Zander also provides a wonderful essay at the end about his creative process, chock full of great advice for all of us with storytelling aspirations.
If you haven't read the comic yet (and why not?!!) I highly recommend making full use of the magnification options, particularly for the typed material at the beginning and end. The font is pretty small! Obviously, I'm into this series for the long haul and I hope you'll give it a try, too. New issues will be released the first Wednesday of each month. Issue #2 is scheduled for July 4th.