Film:
Toy Story 2
Directors: John Lasseter, Ash Brannon and Lee Unkrich
Original Release: 1999
Choice: mine
My Overall Rating: 3 out of 5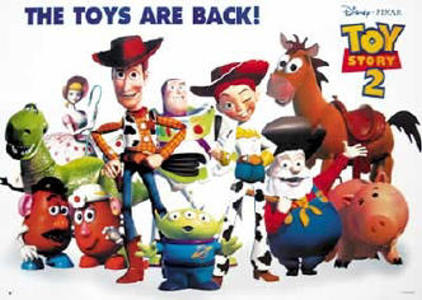 Image via DVD Beaver
This was our first time watching the second installment in Pixar's flagship franchise.
Toy Story 2
tells the story of Woody's abduction by an evil toy collector and his friends' efforts to rescue him. The
Toy Story
movies provide an interesting twist on the merchandising concept, incorporating characters based on well-known, established toys such as Barbie and Mr. Potato-Head along with those invented by Pixar. This second movie pokes gentle fun at collectors and their quirks.
While I didn't consciously plan it this way, the movie comes along at an interesting point in our life as a family. Our Girl has just celebrated a birthday - her ninth. It was the first birthday for which we did not get her any toys. She still likes toys but no longer devotes the hours of playtime to them that she once did. Even when she buys a new one, it finds it's way into a drawer fairly quickly, not to emerge again. She has simply moved on to other things: reading, listening to music, playing with the new cat and all the other things an older kid is supposed to do.
I'm not sad about the change. I've looked forward to this age for many years - a time when individual interests begin to emerge and develop. Curiosity abounds before the confusing complications of adolescence take hold. It was one of my favorite ages to be, growing up, and it's probably my favorite age to teach, as well.
I was a sentimental old fool from a very young age. But at least as far as my daughter is concerned, I am as excited for the future as I am nostalgic for the past. From the first time we saw her heartbeat on the ultrasound, I've yearned to know her better. When we learned we were having a girl, I was pleased and already eager for more.
What's her favorite color?
I wondered.
My favorite part of the movie is a song: the Oscar-nominated "When She Loved Me," written by Randy Newman and performed by Sarah McLachlan. I love Sarah. In fact, at our house, My Wife refers to her simply as my girlfriend. Nobody does wistful better.
Multi-generational considerations:
The Pixar movies do a better job than most Disney productions of holding the interest of adults as much as kids. This particular film plays very effectively on sentiment - definitely targeting parents and even grandparents. The story is fun but predictable and formulaic. It hits all the right chords, but not exactly inspiring.
*****
My Rating System:
5 = The best of the best. These are the films by which I judge other films.
4 = High quality films which I feel could hold up well in repeated viewings.
3 = The vast majority of films. They're fine. Once was enough.
2 = I wasn't even sure I wanted to finish it. It's not a 1 because I'm not prepared to say it's a terrible film - just not my cup of tea.
1 = A terrible film. An insult to the art form.