It was an exciting week of baseball for me. An Orioles-Red Sox series assures NESN coverage so I had three midweek games to enjoy. As a special bonus, the Orioles-White Sox game on Saturday was on WGN. The Birds had slumped a bit after their fast start so I was hoping for at least three wins over the five games played from Tuesday to Saturday to get them back on track.
An O's-Sox series also means my team and Mock's are going head-to-head. Mock doesn't see the O's as much of a threat and really, why would he? The Birds' recent history against Boston has been abysmal. The Yankees, Rays and even the Blue Jays are all of greater concern as AL East rivals. But from my perspective, taking a series from the Red Sox would be a very big deal.
4/26/11 - Boston @ Baltimore
Over a 162-game season, it would seem folly to attach too much importance to any one contest. That said, Tuesday night's offering, the opening act of the series, had strong microcosmic elements. A Britton vs. Buchholz match-up is exactly the sort of game the Orioles will need to win more often if they are to make any real progress this year. On the one side, with injuries to others who would normally inhabit the starting rotation, the Orioles are counting heavily on Zach Britton, their rookie lefty phenom. On the other, Clay Buchholz absolutely owned the Birds last year and with a righty-heavy lineup, the O's are still vulnerable to the right-handed power pitchers in the AL East.
Britton photo via
Bent Corner
Both sides of the equation worked out just fine on Tuesday. Britton was the star of the evening, pitching six innings, allowing only one run. In theory, Britton should be good against the Sox' lefty-heavy lineup. But in defiance of conventional baseball wisdom, Britton is statistically stronger against right-handed batters. As such, his dominating performance was very encouraging.
Buchholz allowed zero earned runs in 15 innings against Baltimore last season. The O's tagged him for four over 6 2/3 on Tuesday. That's one nemesis conquered - for now, at least.
Final score: Orioles 4, Red Sox 1
4/27/11 - Boston @ Baltimore
For Wednesday, an extra treat was in store. Jerry Remy, NESN's usual color man, was a late scratch due to illness. In need of local talent for a replacement, NESN contracted Baltimore folk hero Rick Dempsey for the evening. Dempsey was
D on my A to Z list
. A colorful character in his playing days, he brings plenty of personality to the booth as well. It was a bit strange to watch a Red Sox broadcast in which they talked primarily about the other team but I certainly enjoyed that. Sadly,
others were not so impressed
.
As for the game, Jeremy Guthrie provided the Orioles' their second quality start in a row, allowing zero runs over six innings. Unfortunately, the bullpen couldn't hold things together for him to record a victory. Three Baltimore pitchers combined to allow four runs in the eighth as the Sox tied the game.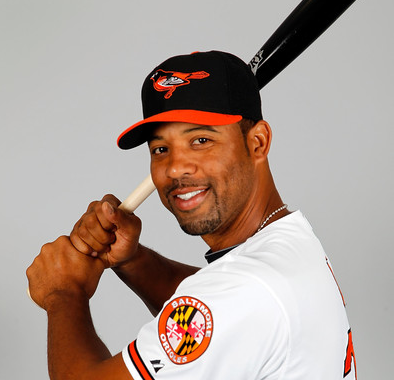 Lee photo via
The Loss Column
But it was a night for the Birds' two new big-name acquisitions to shine. Derrick Lee went 3-for-4 on the evening, scoring two runs, including the game-winner in the bottom of the eighth. Vladimir Guerrero brought him home for the winner with exactly the sort of single upon which he has built his career. With Lee on third courtesy of two passed balls by Jason Varitek and first base open, the smart move would have been to walk Vladi. But he found a pitch to hit and knocked it into center field.
Final score: Orioles 5, Red Sox 4


On Thursday morning, I stopped by Mock's room to chat. I gave him some gentle ribbing over the O's two wins.
He didn't really rise to the bait. Of course, he was a bit preoccupied with other things, like trying to find dry clothes to wear for the day. It's hard to feel sorry for ourselves with the tornadoes raging in the south but to say it's been a rainy week in Vermont is putting it mildly. The Thursday morning commute, in particular, was quite an adventure.


4/28/11 - Boston @ Baltimore
Jon Lester has the Orioles' number. That is the simple truth. The Boston lefty is now 14-0 lifetime against Baltimore. The box score indicates that the Oriole bullpen gave up four runs over two innings to put the game out of reach. But even if they'd allowed just one, it wouldn't have made any difference. Lester was just too good: eight innings, five strikeouts, four hits, three walks and two runs.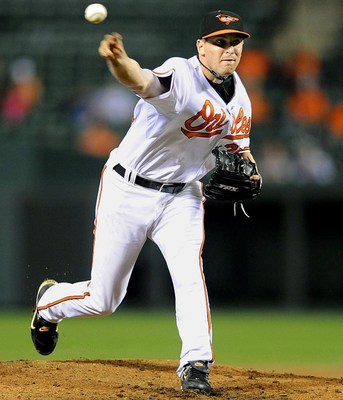 Bergesen photo via
Bleacher Report
The game was not without its bright spots for the Birds. The young righty Brad Bergesen provided the team with its third consecutive quality starts, allowing two runs over six. At some point, it would be nice if the Oriole starters could work further into games but I certainly understand wanting to preserve young arms early in the season.
Final score: Red Sox 6, Orioles 2
On Friday morning, the gentle ribbing came my way from Mock. That didn't go too far either. I can't be overly upset. A sweep of the Sox would have been great but a series win is a series win. It would seem neither of us is too keen on a baseball rivalry playing too much of a role in our friendship. That's fine by me. I do believe that a true fan loves the game first and the team second, anyway. Of course, it's easy to be magnanimous in April, too. Our two teams have 15 more games to play against one another this season, including the last series of the year in September. If a playoff spot is on the line at that stage, our discussions might take on a more anxious tone.
4/30/11 - Baltimore @ Chicago
I feel I can say definitively that NESN's coverage of Red Sox games far exceed's WGN's coverage of White Sox games. Even My Wife, a Chicagoland native, was embarrassed by the broadcast booth's blatant Good Guys vs. Bad Guys rhetoric. I find it extra irking as color man Steve Stone is a former Oriole! In fact, he won a Cy Young while pitching for the team in 1980, back in an era when the Orioles staff more or less had a lock on that particular trophy. Three different Baltimore pitchers (Jim Palmer, Mike Flanagan and Stone) won the Cy Young a total of five times from 1973-80. NESN's graphics are sharper, too.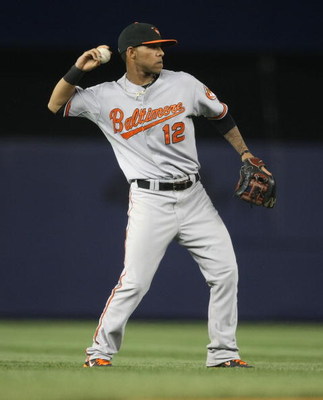 Photo via
Bleacher Report
The Orioles had beaten the White Sox on Friday night, 10-4. So, they had already crossed the three-win threshold I had envisioned. Thus, the Saturday night win was icing on the cake from my perspective. The Birds had a particularly nice game from Robert Andino, the regular shortstop at the moment. With J.J. Hardy's injury and gifted fielder Cesar Izturis's eternal struggles at the plate, Andino has unexpectedly emerged as the Orioles' most dependable hitter over the past few weeks. He went 2-for-4 on Saturday night with a homer, two runs scored and a stolen base. Shortstop has been a troubling position for the club for a while now. Andino's recent success is a welcome surprise.
Final score: Orioles 6, White Sox 2
***********
As I've written before, I thought before moving here that hockey was a bigger deal in Vermont than it actually is. I've lived in a hockey state. I spent a year in Minnesota, where high school games are frequently televised. That's hockey country. Here, the average sports fan is far more passionate about baseball. I believe I have come to understand why.
If baseball is being played, spring really is on its way. The very words
spring training
reassure us that the days will be getting longer. Once the home opener is played at Fenway, we know that even mud season is temporary. As baseball wraps up its first month, there are finally buds on the trees and there is talk at our house of backyard grilling.
Unfortunately, the reverse is also true. Once the final out is made at the World Series, we all know what's coming...
Finally, a quick assessment of a few of Matt Trueblood's
ten things the Orioles must do to win the pennant
:
1. Brian Matusz Becomes an Ace
He's still on the DL, apparently about three weeks from returning to service.
2. Koji Uehara Wins the Closer Role
The slightest sign of trouble with current closer Kevin Gregg seems to inspire calls for his replacement by Uehara. But in truth, Gregg was solid over this five game stretch, converting both of his save opportunities without even allowing a base runner. Uehara, on the other hand, has been sketchy. Sure, he was credited with the win on Wednesday but he did give up a three-run homer which tied the game. He only got the win because the offense bailed him out in the bottom of the inning. He allowed a home run in the ninth last night, too.
4. Clay Buchholz and Phil Hughes Regress
I think the Birds can cross this one off the list. The win against Buchholz on Tuesday had great implications for the season ahead. Hughes, meanwhile, has completely fallen apart. Technically, he's on the disabled list but really he's just been stinking up the place. He has already had a start against the Orioles. They knocked him around for five runs over 4 1/3. Of course, Buchholz and Hughes aren't the only tough righties in baseball. Nonetheless, the Baltimore hitters should be encouraged by early signs that their division road may have gotten a tad easier.
5. Justin Duchscherer Gets Healthy
He's still on the DL, officially due back in May.
7. Zach Britton Finds His Way
There's still plenty of time for all to go kablooey but man, he looked tough on Tuesday. He's currently 4-1 with a 2.84 ERA. With any young stud hurler, one wonders how he'll survive his first shelling. The Indians touched him for five runs in six innings on April 15th. His two subsequent outings were both solid wins. It's hard not to be excited about this guy.
8. Left Field Poses a Good Problem
Luke Scott has more starts but Félix Pié has more game appearances. Pié's batting average is still slightly better: .250 to .241. There is one major drawback to the left field situation: both men bat left-handed. Against lefty pitchers, Jake Fox, the backup catcher, is getting the starts.
9. Chris Tillman Breaks the Ceiling
When Matusz and/or Duchscherer return and presumably take up spots in the starting rotation, Tillman appears, at least for the moment, to be the most likely man to be shipped to Norfolk, the triple-A club. He got the win last night but only lasted five innings and had to be bailed out of trouble by the bullpen in the sixth.