Every fall, once we're fairly certain the bears are down for the winter, we put up our bird feeders. We learned the hard way about the bears. One day, I looked out the front window and saw a fuzzy face looking back at me. Sure enough: a mother black bear and three cubs, feasting away on sunflower seeds from our hopper feeder. So, from April to October, no feeders at our house.
My Wife suggested a new tradition this year: put up the feeders together as a family in the morning, then pie for breakfast. The ritual had a bit of a monastic feel, all of us outside in our bathrobes. We're starting with a simple set up this year with two tube feeders - one with black oil sunflower seeds (left), one with thistle (right) - and one suet feeder.
We also have a peanut feeder we may add at some point. We need a new hopper feeder, too. The turkeys destroyed the one we had last year. The pie was from
Poorhouse Pies
, our local pie shed.
We love backyard birding for many reasons. Winter hobbies are essential around here. It's very important to have something to look forward to as days get shorter and colder. I also enjoy being reminded that the woods surrounding our home are teeming with life and that we can make a modest contribution to sustaining it. Thus you can understand our disappointment when no birds showed up - not a single customer all day! We're sure to get plenty over the course of the winter but we couldn't help wondering if something has decimated our local chickadee population. (We suspect a neighborhood cat!) Have we done something to offend?
While we're waiting for our feathered guests to arrive, some bird humor:
We lost in broomball, 4-0. We played hard, though, especially in a 0-0 first period. We're off for the rest of the month, then two more regular season games. There's talk of renting ice time for practice.
In happier news, the high school in the town where I teach won the girls' state soccer title on Saturday, their third in four years. Orange Man is their proud, first-year coach. Seemingly half the town was at the game - good times.
Follow Up: Orioles Hire a GM
The avian orioles are long gone from Vermont at this point, off to some tropical paradise for the winter. We've thought of putting up an oriole feeder but when we found our hummingbird feeder on the ground with a long black hair on it, we knew a local bear had a sweet tooth.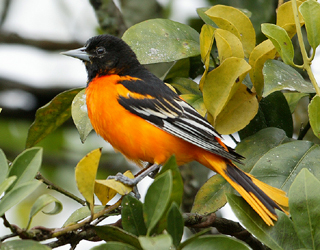 Photo via
Casa Panama
The baseball Orioles have just hired a new general manager: Dan Duquette, former GM of both the Red Sox and Expos. He has the sort of credentials the Birds were supposedly seeking: significant experience in scouting and player development. He's a bit too old guard for my tastes but if the search process taught us anything, it's that the Orioles aren't the first choice employer for many baseball people. Ownership is still the overarching problem. Peter Angelos is a difficult man with a definite ceiling as to how much he's willing to spend on this team. Buck Showalter, while a talented manager, is a highly opinionated man himself. Now the team has added a GM with reputed interpersonal shortcomings. If the GM hiring adventure is any indication, it will be rough going for Baltimore in the free agent market as well. Even millionaires care about working conditions.
Photo via
BostonHerald.com
But I'll take a new beginning where I can get it. As my daughter always says, you get what you get and you don't throw a fit. Perhaps in his time away from the Majors, Duquette has uncovered the mysteries of the universe. Here's hoping.