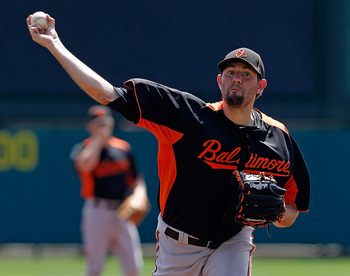 Photo via Bleacher Report
The fact that the Orioles are winning is really crazy enough. After today's 8-2 throttling - yes, I said "throttling" - of the Red Sox, the team has an 18-9 record. The fact that they are winning with pitching is absolutely nuts. To say that pitching has been a weakness for the franchise is a bit like saying gullibility was a weakness for the Trojans. Over the past nine games, Baltimore's starting pitchers have been outstanding, turning in quality starts in seven of those games.
A quality start is one in which the pitcher goes for at least six innings and allows three earned runs or fewer. Traditionalists don't like the quality start stat because it amounts to a 4.50 ERA - not very good. But sabermetricians don't like ERA as a stat anyway.
I
like the quality starts stat because it asks a simple question: did the starting pitcher do his part to help his team win the game? He has no control over what his offense does, what the fielders behind him do or what the relievers do - all factors which determine whether he might be credited with a win or loss. But did he do his job?
The most effective starter to this point for the Orioles has been Jason Hammel. Out of his six starts, he has turned in a quality start five times: 83% of the time. To give you an idea of how good that is, Tim Lincecum has the highest percentage of quality starts in a career at 72.7%. There's no telling whether Hammel can keep this up over the course of a long season but it's a very clear indication of how well he's pitched. He's doing very well with the traditional stats, too: 4-1 record with an eye-popping 2.09 ERA. Where did this come from? Prior to this year, his best season ERA was 4.33 in 2009. It's a long season and it's still very early but he and the club have to be thrilled by his performance thus far.
Since I panned him last time, I must point out that Brian Matusz seems to have found his groove as well. Both of his past two starts have been quality starts. His ERA is now down to 4.67.