Tomorrow in Regina, capital city of Saskatchewan, the 2011 Ford World Men's Curling Championship begins.
Image via
In My Own Words
The teams:
Canada
China
Czech Republic
Denmark
France
Germany
Norway
Scotland
South Korea
Sweden
Switzerland
USA
Canada qualifies as host and defending champion. The United States was the second highest placing team from the Americas at the last world championship and was unchallenged for its spot. China and South Korea were the top two teams at the 2010 Pacific Curling Championships. The European teams were the top eight at the 2010 European Curling Championships.
Canada is pretty much always the favorite to win this event. They've done so 32 times. The drop off from the top is steep. Scotland and Sweden are tied for second with five titles each. Canada will also enjoy the advantages offered by the home crowd and also by the only man in the field to have skipped a world champion before: Jeff Stoughton (pictured above). Stoughton's rink is based at the Charleswood Curling Club in Winnipeg, Manitoba. His team includes Jon Mead, Reid Carruthers, Steve Gould and alternate Garth Smith. They qualified by winning the Brier, Canada's national championship. Gould was part of Stoughton's rink when they won the world title in 1996.
The biggest threat to Canadian dominance may be Norway. The Norwegians, led by the too-handsome-for-curling Thomas Ulsrud, put their team and the whole sport on the pop culture map with their snazzy pants at the Vancouver Games: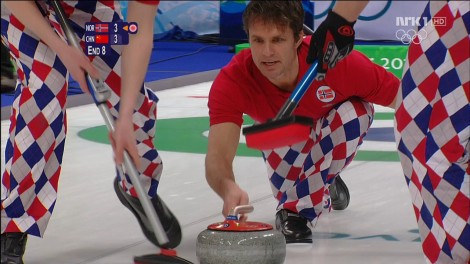 Image via
Technofranki's blog
The Norwegians have continued to explore the bounds of fashion since.
Image via
SportsCenter.com
Here's an offering from the women's team:
Image via
Harlequin American Romance Authors
The wheelchair team, too:
Image via
RickMcCharles.com
Oh, and they're a pretty good team, too. They won the silver medal in Vancouver and they are the reigning European champions.
The United States is represented by Pete Fenson's rink, based in Bemidji, Minnesota. The US champion team includes Shawn Rojeski, Joe Polo, Ryan Brunt and Scott Baird. Fenson, Rojeski, Polo and Baird were all part of the bronze medal winning US team at the 2006 Olympics in Torino. Baird was, in fact, the oldest Winter Olympian ever and the oldest Olympic medalist ever, Summer or Winter Games. Team USA has won the world championship four times. But the last time was 1978.