Title:
Baseball before We Knew It
Author: David Block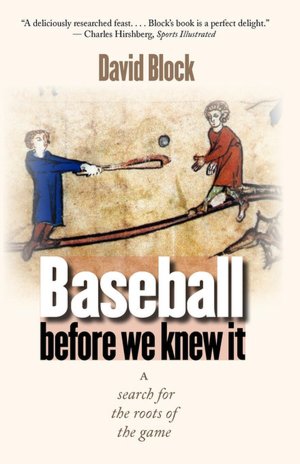 Image via BARNES & NOBLE
Block's book is the culminating work of a very ambitious research project to determine the cultural origins of the game of baseball. Necessarily, the book begins with debunking the most commonly espoused theories. Block argues convincingly that neither the spontaneous invention of the sport by Abner Doubleday nor the descent from the English game of rounders is likely. More to the point, neither is supported by historical evidence. In truth, sports involving balls, bats and/or bases have been around for centuries and developed in different regions of Europe before coming to the Americas. Block offers his own theories as to the game's origins but admits upfront that primary sources are scant.
Block's book does
not
address a matter of great curiosity to me: the sheer oddity of the game itself. Oh, you don't think baseball's a strange sport? Try watching with an inquisitive child sometime. I guarantee you will feel like an idiot and a lunatic inside of five minutes.
Child: So, that was a ball, right?
Parent: No, it was a strike.
C: But he didn't swing.
P: Well, you see, the umpire thinks it was a hittable ball.
C: How can he tell?
P: The pitch was inside the strike zone - over the plate, between the top of the belt and the knees.
C: Oh... (clearly more confused than when we started)
Abbott and Costello
barely scratched the surface
. As basic game concepts, basketball, hockey, soccer and even football are far easier to understand. With baseball, anything beyond "hit the ball, then run as far as possible" gets into murky waters in a big hurry. Force out vs. tag out? Balks? The varying dimensions of Major League outfields? Dear friend, be highly skeptical of anyone who tells you he actually understands the Infield Fly Rule.
Perhaps the very weirdness of the game helps to support Block's argument. Baseball is like a language, with rules that could only have developed as part of an oral tradition over several generations. Compare this with basketball, whose rules were codified upon the game's inception. With only moderate tinkering, a basketball game played today resembles Naismith's original concept very closely. Every rule change has been discussed and documented by governing organizations. The game is still, at its heart, very simple and easy to understand. Baseball's development has been far more nebulous. Its quirks are part of its charm, no doubt, but quirks nonetheless. Perhaps they could only have emerged through cultural evolution rather than institutional consideration.