Player: Billy Herman
Born: 7/7/1909 in New Albany, Indiana
Died: 9/5/1992 in West Palm Beach, Florida
Major League Career: 1931-47
Games Played at Second Base: 1,813
Most Games Played For: Chicago Cubs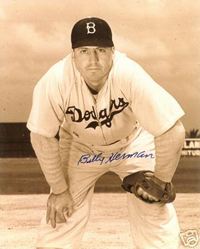 Photo via
Baseball in Wartime
Billy Herman made the All-Star Game 10 times. He still holds the National League record for putouts by a second baseman in a season: 466 in 1933. He was elected to the Hall of Fame by the Veterans Committee in 1975.
*******************
For last year's
A-Z Challenge
, I featured players of the Baltimore Orioles/St. Louis Browns organization, my favorite baseball team. I managed to cover every position on the field except for one: second baseman. As such, I decided to devote this year's challenge entirely to the second base position, honoring the individuals who earned their keep playing one of the game's most demanding defensive positions.
Head on over to
Blogging from A to Z April Challenge
to find others joining the adventure.
Be sure to visit my new friends:
DREAM WEAVER
Scattergun Scribblings
Jaycee DeLorenzo's Blog