Player: Fernando Viña
Born: 4/16/1996 in Sacramento, California
Major League Career: 1993-2004
Games Played at Second Base: 1,049
Most Games Played For: Milwaukee Brewers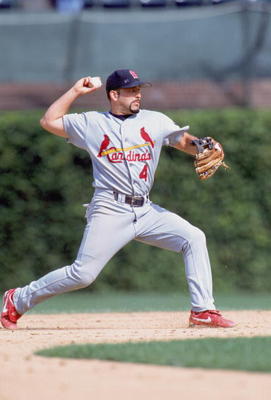 Photo via Bleacher Report
Fernando Viña was an All-Star in 1998 and a Gold Glove winner in 2001 and 2002. He had a .282 lifetime batting average. He currently works as an analyst on ESPN's
Baseball Tonight
.
******************
For last year's
A-Z Challenge
, I featured players of the Baltimore Orioles/St. Louis Browns organization, my favorite baseball team. I managed to cover every position on the field except for one: second baseman. As such, I decided to devote this year's challenge entirely to the second base position, honoring the individuals who earned their keep playing one of the game's most demanding defensive positions.
Head on over to
Blogging from A to Z April Challenge
to find others joining the adventure.