Player: Ron Oester
Born: 5/5/1956 in Cincinnati, Ohio
Major League Career: 1978-90
Games Played at Second Base: 1,171
Most Games Played For: Cincinnati Reds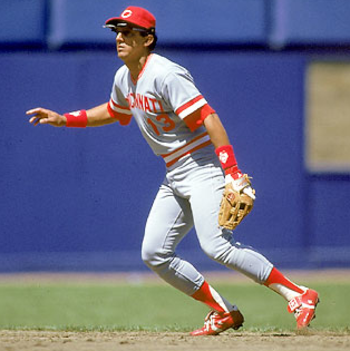 Photo via Bleacher Report
Ron Oester played his entire Major League career with the Reds, a loyalty rewarded when the team won the World Series in his final season. In 1988, Oester won the Hutch Award, an honor I'd never heard of before. It's a fighting spirit award. Oester came back from ACL surgery midway through the '88 season, certainly worthy of acknowledgment.
*******************
For last year's
A-Z Challenge
, I featured players of the Baltimore Orioles/St. Louis Browns organization, my favorite baseball team. I managed to cover every position on the field except for one: second baseman. As such, I decided to devote this year's challenge entirely to the second base position, honoring the individuals who earned their keep playing one of the game's most demanding defensive positions.
Head on over to
Blogging from A to Z April Challenge
to find others joining the adventure.
Be sure to visit my friends. Both of these bloggers have been great supporters over the past couple of months, sending tags and awards my way.
Heather Murphy is doing musical instruments for A-Z at her blog
Random Interruptions
. I've thought of doing instruments myself and Heather has definitely raised the bar.
Nikki has devoted the A-Z challenge and, indeed, her entire blog
inspire nordic
to her love for all things Scandinavian.