Player: Johnny Evers
Born: 7/21/1881 in Troy, New York
Died: 3/28/1947 in Albany, New York
Major League Career: 1902-29
Games Played at Second Base: 1,735
Most Games Played For: Chicago Cubs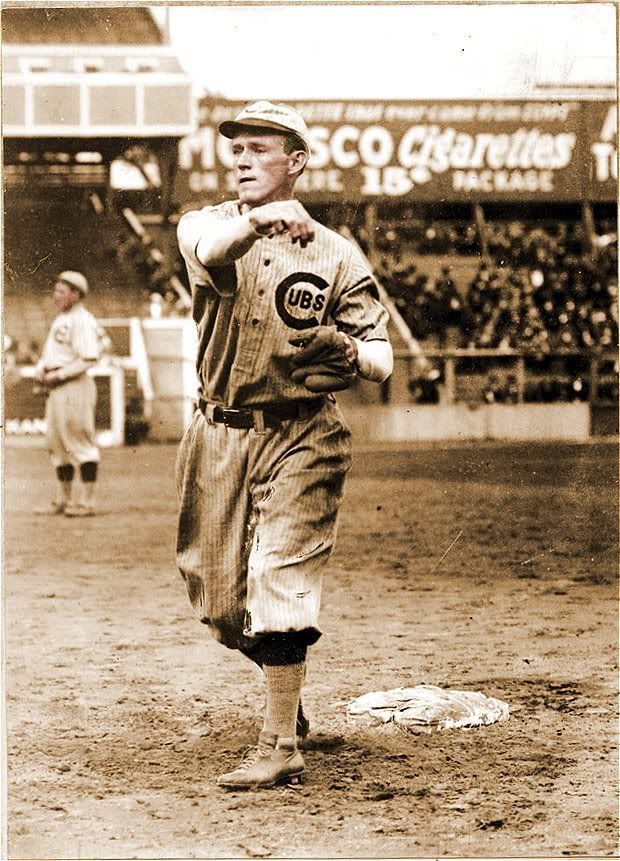 Photo via Baseball Fever

Johnny Evers, inducted into the Hall of Fame by the Veterans Committee in 1946, is most famous now as the second baseman in the poem, "Baseball's Sad Lexicon" by Franklin Pierce Adams:
These are the saddest of possible words:
"Tinker to Evers to Chance."
Trio of bear cubs, and fleeter than birds,
Tinker and Evers and Chance.
Ruthlessly pricking our gonfalon bubble,
Making a Giant hit into a double –
Words that are heavy with nothing but trouble:
"Tinker to Evers to Chance."
I have written previously about the poem
here
.
Evers had a fine career, winning three World Series, including two with what were then the juggernaut Chicago Cubs (1907 and 1908). He was the National League MVP in 1914. In that same year, he was ejected nine times - a single-season record.
*******************
For last year's
A-Z Challenge
, I featured players of the Baltimore Orioles/St. Louis Browns organization, my favorite baseball team. I managed to cover every position on the field except for one: second baseman. As such, I decided to devote this year's challenge entirely to the second base position, honoring the individuals who earned their keep playing one of the game's most demanding defensive positions.
Head on over to
Blogging from A to Z April Challenge
to find others joining the adventure.
Be sure to visit my new friends:
word cut
My Creatively Random Life
Yes, This Will Be On The Test Leslie S. Rose